In USA Black Week is by far the biggest shopping event of the year. It always lasts a week with the critical point falling on Black Friday.
Black Week: time for sales lovers
For years, Black Friday has attracted the interest of many Americans. This shopping holiday draws in crowds of consumers who are making the best of the discounts offered to them. That is why, seeing the interest of clients, stores decided to expand their offers for the entire week, not just Black Friday. Thanks to that, discount lovers can enjoy rebates from the Monday preceding Black Friday until Cyber Monday.
BlackWeek.Global analytics decided to check the attitude of Americans toward Black Friday, where in the United States the interest in Black Week sales is the biggest, as well as how much money consumers spend and what they buy.
To buy or not to buy?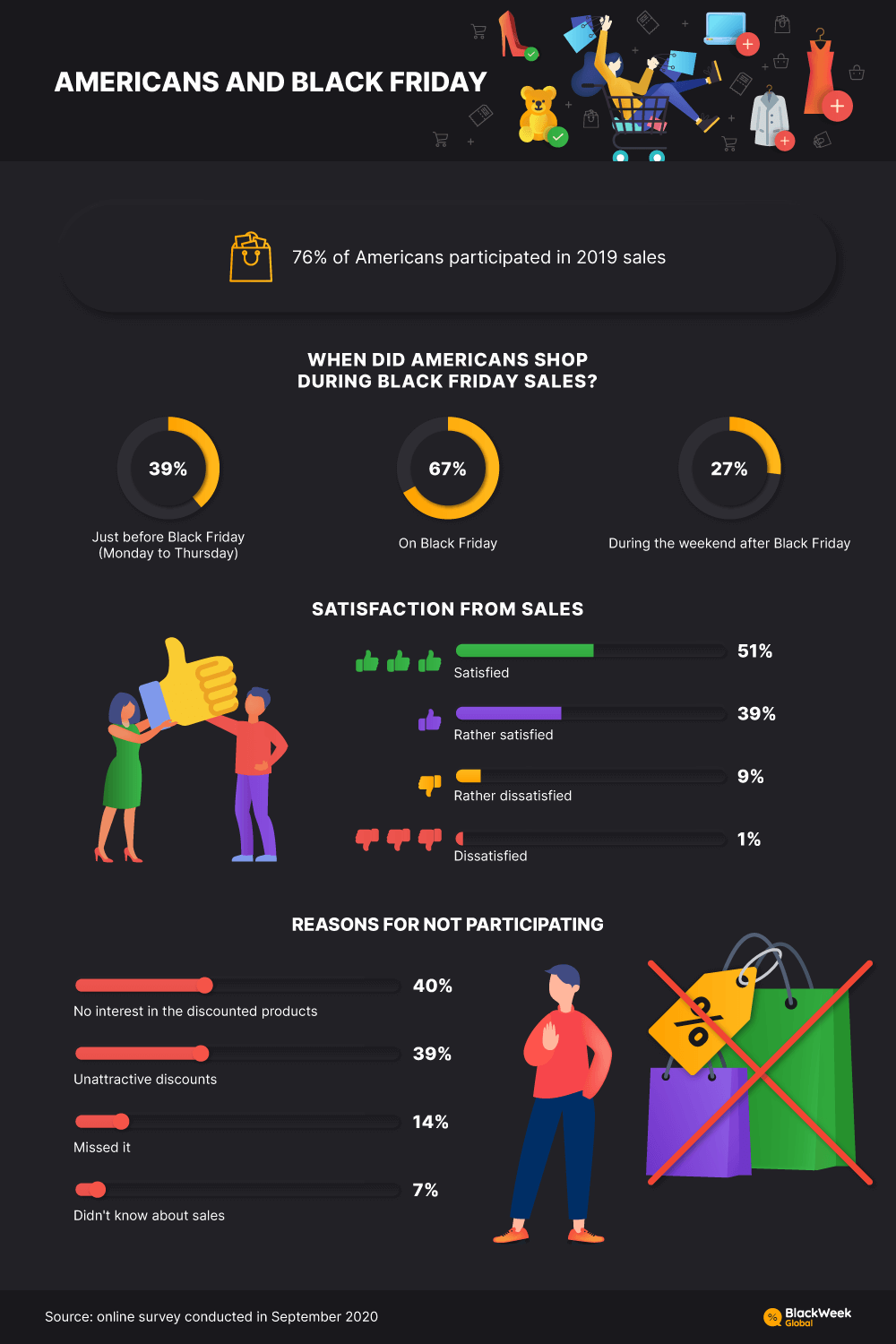 Three-quarters of Americans (76 percent) took part in last year's Black Friday sales. Although this number may surprise, in reality not all consumers participated in the sale on Black Friday itself. 67 percent of shoppers decided to shop on Friday, but as much as 39 percent did their shopping from Monday to Thursday, and 27 percent enjoyed special offers over the weekend after Black Friday (Saturday and Sunday).
The vast majority of shoppers (90 percent) was satisfied or rather satisfied with their Black Friday experiences. 9 percent of respondents were rather unsatisfied, and the remaining 1 percent was unsatisfied with their Black Friday shopping.
Among the people who did not take part in last year's Black Friday, the most common reason (40 percent of answers) was the lack of discounts on the particular products which respondents wanted to buy. 39 percent of people taking part in the survey said that the discounts were too low. The remaining simply missed Black Friday or did not know what it is at all (7 and 14 percent respectively).
States where people love promotions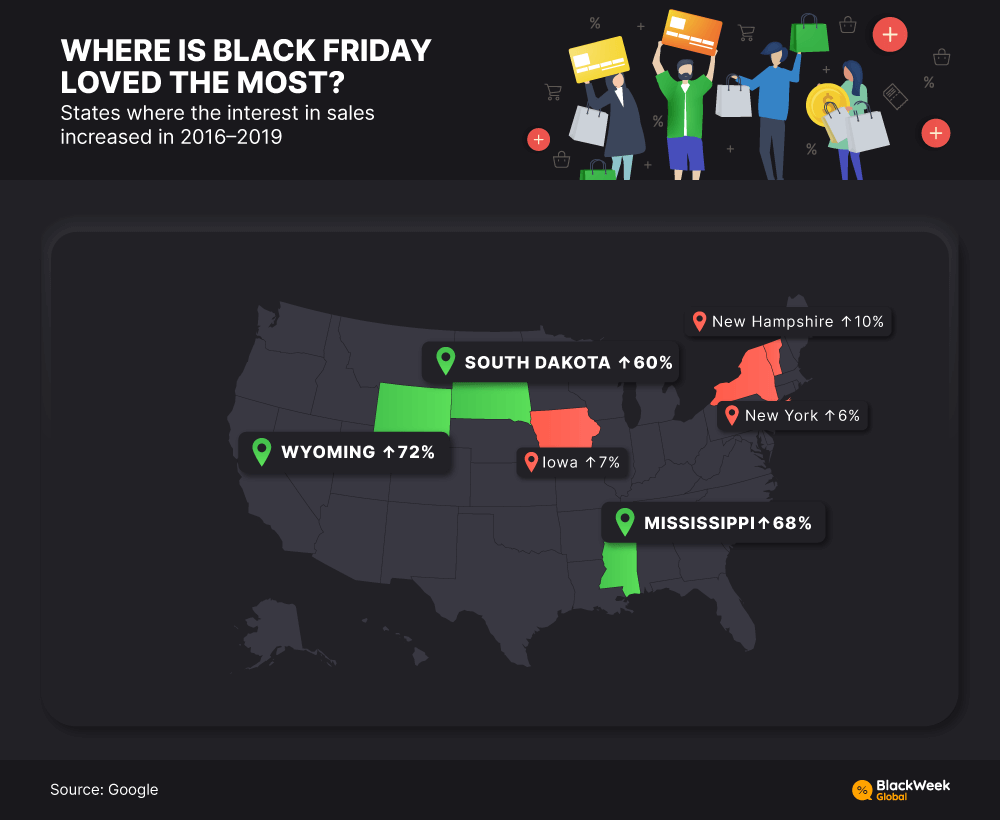 Based on online search queries, we found the states where the interest in Black Friday sales increased the most from 2016 to 2021. Wyoming took the first place — in this state, the interest in discounts increased as much as 72 percent. Mississippi was just behind with a 68 percent increase. South Dakota, where the increase of interest amounted to 60 percent, completed the podium.
The least interested in Black Friday sales are citizens of New Hampshire (increase by 10 percent), Iowa (7 percent), and New York (6 percent).
Big bucks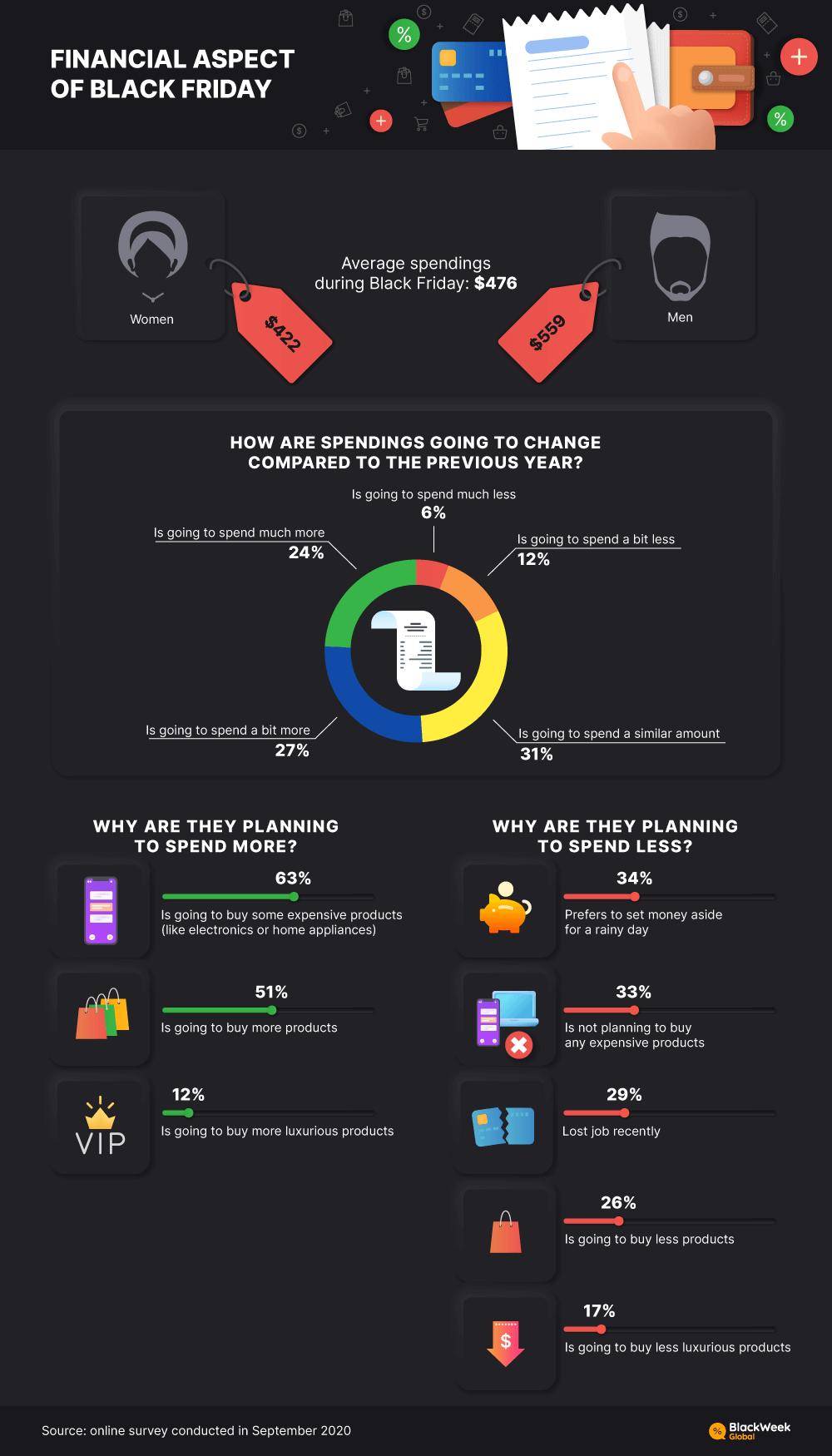 Statistically, Americans spend $476 on Black Friday. It is worth noting that men spend a lot more than women during Black Friday sales: 559 vs 422 dollars. It doesn't necessarily mean that men buy more than women — they could just buy more expensive items.
When asked about Black Friday spending, many respondents claimed they are going to spend a similar amount as last year (31 percent). More than half is planning to spend more (51 percent), and 18 percent is going to spend less money than last Black Friday.
People who are going to spend more usually justified their answers by the fact that they are going to buy some expensive item this year, such as electronics or home appliances (63 percent indicated such reason). 51 percent is planning to simply buy more products, and 12 percent are going to buy more luxurious products than last year. On the other hand, among the people who are planning to spend less, 29 percent said that their smaller budget is caused by job loss. 33 percent is not planning expensive shopping this year, and 34 percent prefers to set money aside for a rainy day.
Selling like hotcakes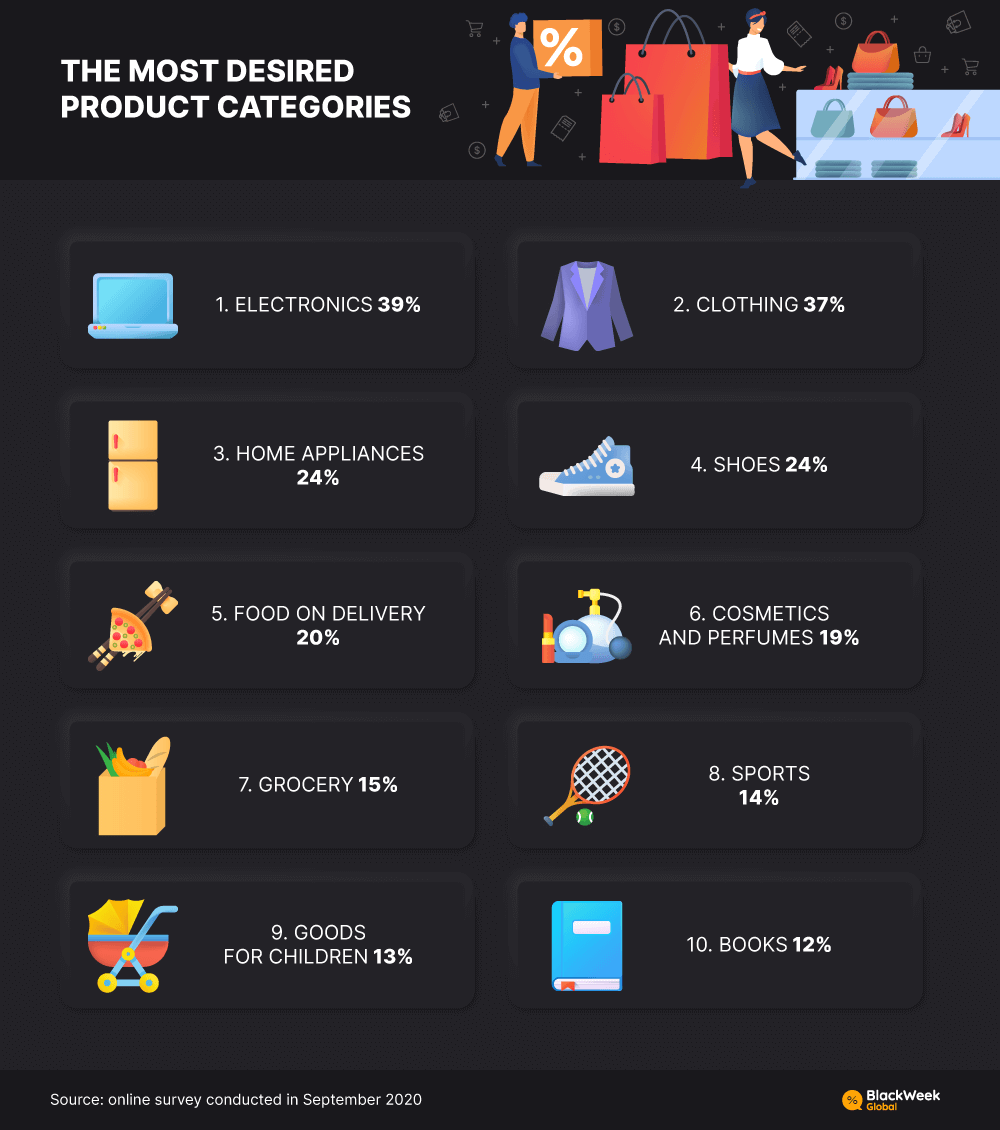 Invariably, electronics are among the products which rule during Black Friday sales. It is the most frequently chosen category of products — 38.6 percent of consumers will buy electronics. Clothes (36.7 percent) and home appliances (24.2 percent) were the second and third top categories.
Shoes ranked fourth (24.1 percent), followed by food on delivery (19.8 percent). Cosmetics were less popular during Black Week (18.6 percent), similarly to grocery or sports items (15.2 and 13.5 percent respectively). Child care products and books rounded out the top ten categories with 13.2 and 12.2 percent respectively.
Methodology
All statistical data comes from Picodi.com, a global discount platform operating since 2010, which created BlackWeek.Global, a site dedicated to Black Week sales. The survey conducted in September 2022 was also used in the report.
Public Use
Would you like to share information about Black Week with your readers? All the data and infographics presented in this report can be freely used for both commercial and non-commercial purposes as long as you indicate the author of the research (BlackWeek.Global) with a link to this subpage.